We are proud of our staff for their high standards of professionalism, their experience, and their sincere concern for animals. We invite you to meet them below.
Danielle N. Rastetter, DVM
Medical Director and Owner
Dr. Rastetter earned her Bachelor of Arts degree from Hiram College and Doctor of Veterinary Medicine degree from the Ohio State University. She is a member of the American Veterinary Medical Association, Ohio Veterinary Medical Association, Miami Valley Veterinary Medical Association, and the Association of Medical Professionals with Hearing Losses. Dr. Rastetter has over two decades in veterinary medicine including nine years working in the field of shelter medicine. Since 2017, she has been part of The Ohio State University College of Veterinary Medicine application review team. Dr. Rastetter was honored to be able to volunteer her services in the aftermath of Hurricane Katrina and Rita in 2005 through multiple avenues both locally and at a temporary shelter near the disaster area. Her very active household consists of two sons and an often fluctuating number of dogs and cats.
Education is a passion of Dr. Rastetter's – not only for clients but also for her colleagues. As such, Dr. Rastetter is an Adjunct Professor for Sinclair Community College's Veterinary Technology Program. Other veterinarians have also spent time at Pets In Stitches to learn her surgical techniques.
Dr. Rastetter established Pets In Stitches after recognizing the community's need for affordable surgical services. Dr. Rastetter is passionate about reducing the pet overpopulation crisis, pain management, shelter and disaster medicine, and client education. Few veterinarians have her level of spay and neuter experience and enthusiasm.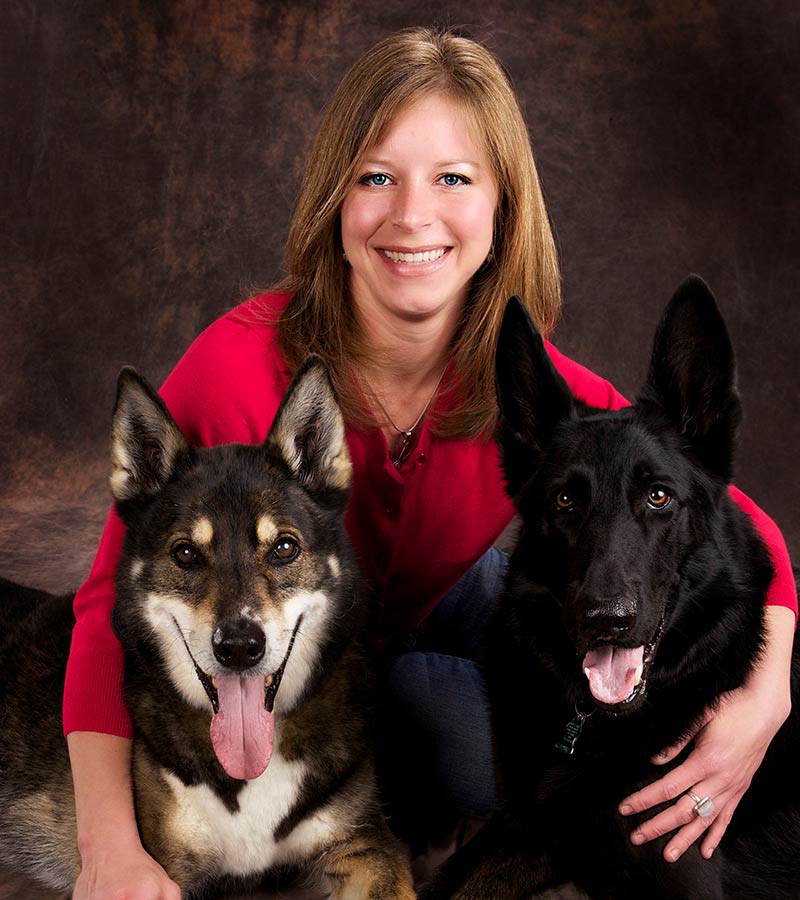 Sarah Hussong, RVT
Registered Veterinary Technician
Choosing a career in animal care was easy for Sarah. For years, her family actively fostered for a local shelter and inspired her love of animals. She began working at the same shelter in 2000 and held many positions during her nine years including animal care technician, adoption counselor, veterinary assistant, foster, and trainer. Sarah was especially drawn to training and behavior modification to help dogs on the adoption floor become well-mannered and ready for their fur-ever homes. In 2009, she had the exciting opportunity to travel out of state to work with Service Dogs and Urban Search and Rescue which was incredibly rewarding for Sarah. Sarah earned her Veterinary Technician degree in 2016.
Since helping the animals in our community is important to Sarah, she sought her position as Registered Veterinary Technician with Pets In Stitches. Sarah believes that affordable spay and neuter combined with community education is crucial to decreasing the number of pets in shelters and euthanized.
Sarah currently resided with 2 four-legged pointy ear dogs and 2 two-legged daughters that keep her busy and happy.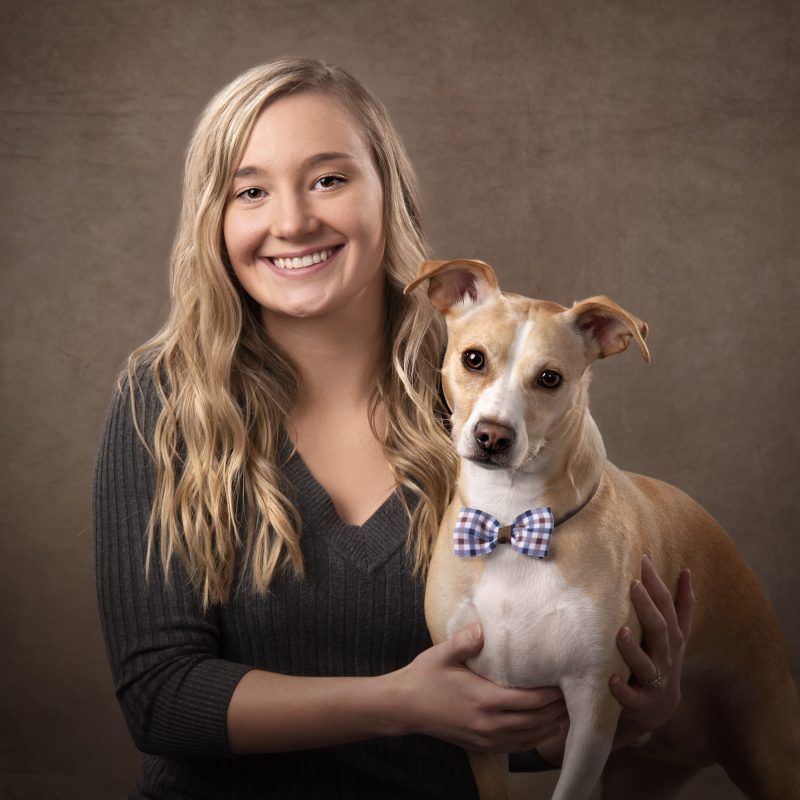 Trinity Hemmerich, VT
Lead Veterinary Assistant
Trinity has always loved animals and knew she wanted to dedicate her life to caring for them. As a child, Trinity had many pets including dogs, cats, and rabbits. She studied Animal Care Management at Miami Valley Career Technology Center and worked at a spa for animals during and after high school. Trinity received her associates degree as a veterinary technician from Sinclair Community College.
Trinity is engaged to her high school sweetheart. They are proud parents of a fun, loving, rescue dog named Scout whom they adopted him from the Montgomery County Animal Resource Center. Trinity's dream is to own a house with a lot of land so she can care for more pets including horses.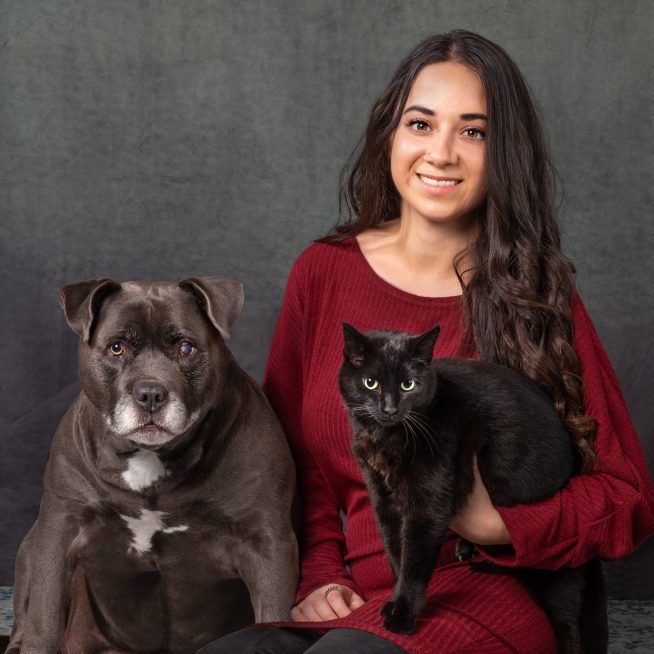 Sophia Castro
Client Experience Coordinator and Veterinary Assistant
Sophia earned a Bachelor of Arts degree in biology with a concentration in Environmental conservation from Wilmington College. During her college years, Sophia traveled to Thailand to volunteer at the Elephant Nature Park, Animal Rescue Kingdom and the Tiger Kingdom. She hopes to return one day to continue her volunteer work. During this time, Sophia learned about positive reinforcement training when working with exotic animals. Her favorite memory was at the Elephant Nature Park where she met her hero and the sanctuary's founder, Lek Chailert.
Sophia is an avid volunteer at the Clinton County Humane Society for almost two decades. Through this volunteer work, Sophia realized her passion for animal rehabilitation and community outreach. Matilda (pictured on the left) and Frida (pictured on the right) were both rescued a decade ago from the Clinton County Humane Society.  Frida is named after the Mexican painter Frida Kahlo, who suffered from a bus accident that broke her back, legs, and pelvis. Both Fridas were never expected to walk again but both prevailed!
Sophia enjoys camping, working with animals, and collecting crystals and fossils. She plans to continue working with animals and eventually open her own rescue and rehabilitation center.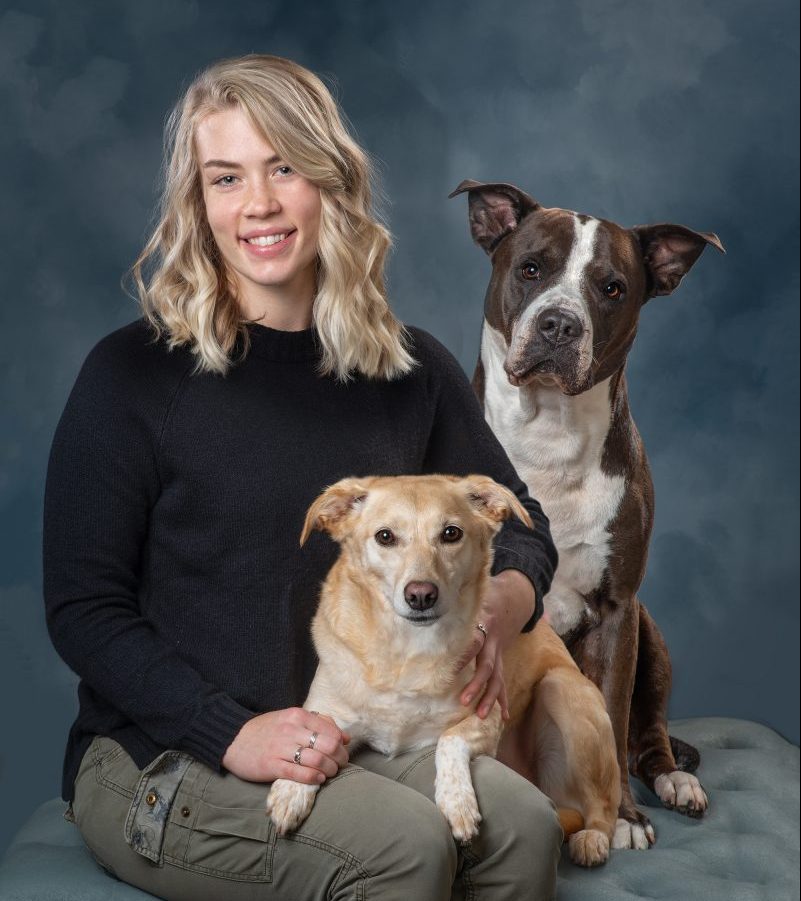 Connor Fischbach
Veterinary Assistant
Connor has been working with animals for a few years now. Her breadth of experience encompasses working in shelters, kennels, and veterinary clinics. She loves what she does and is always excited to help an animal in need.
Connor has two dogs of her own, a spunky border collie Australian Shepard mix and a lazy pit bull!
Brittany Jones
Lead Customer Service Representative
Throughout the years, Brittany has provided foster care to countless dogs placed on the euthanasia list from various shelters around the Columbus area. When she returned to Dayton, she partnered with local rescues to socialize special needs dogs. Brittany loves to sew and made hundreds of dog beds and chew toys that are sent with these dogs to their foster homes.
Environmental responsibility is important to Brittany. She works hard to achieve a zero-waste lifestyle and is very passionate about recycling. Brittany dreams of building herself an Earth Ship home out of 100% recycled materials with renewable resources!
Little Girl (nicknamed "Granny," pictured here) has been with her since she was a junior high school student.  Granny was rescued from a deep snowbank and the two have been bonded for 20 years and counting.
Brittany is also a mother of two active teenage boys.  She is a musician, an artist, and is continually seeking new ways to use her talents to help her community.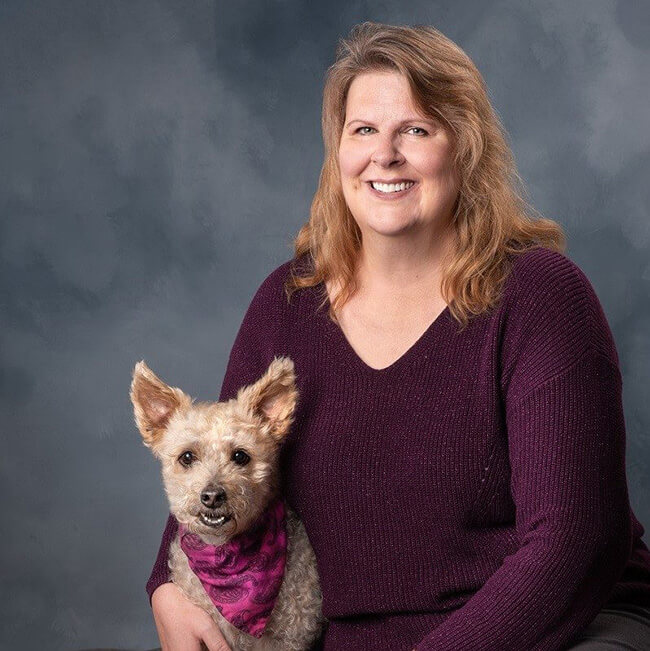 Deb Johnson
Customer Service Representative
Deb grew up near a large pine forest and land with a creek where she explored every summer as a child. She learned to love nature, plants, and animals. This led to her love of biology, and finally to her study of pharmacy at Ohio Northern University. There, she met her husband Mark, and they were married in 1991. After 20+ years as a retail community pharmacist in the Dayton area, Deb decided to retire and do the stay-at-home mom thing for awhile. She has two sons who are now grown and in college.
Deb is a self-proclaimed "Dog Freak", and will never pass up the chance to meet and pet a dog! She has had five dogs over the course of her life, two cats, two hamsters, many fish, and a guinea pig. Her dream job would be to run a doggy daycare. However, Deb has found her niche at Pets In Stitches where she can utilize her customer service skills and also nurture her love of animals.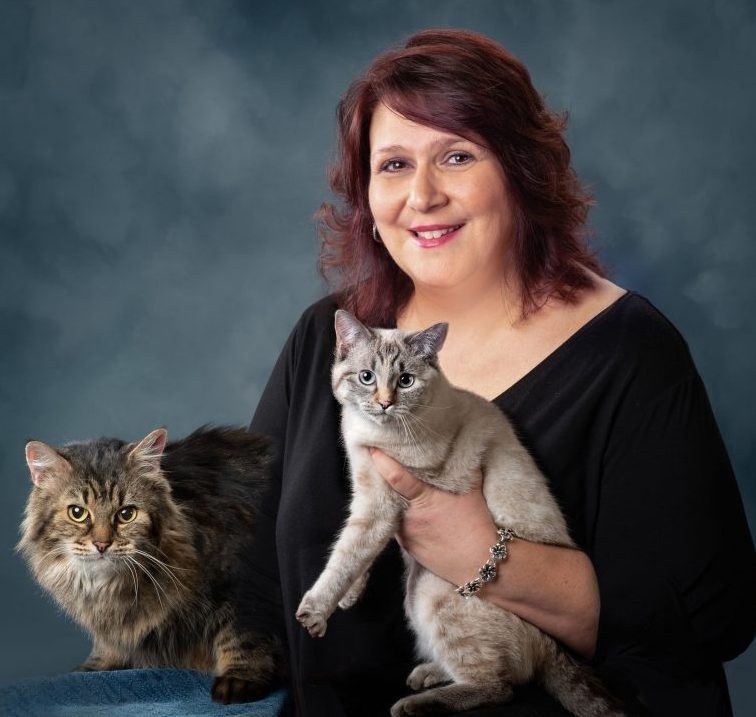 Debbie Weisman
Customer Service Representative
Debbie has worked in customer service for over 30 years. She loves making sure people are taken care of and has been a caregiver her entire life.
Debbie has always had animals in her life be they dogs, cats, and rabbits. When her children were young, she rescued animals as well. She has two cats of her own to brighten her home. Her older girl, Gracie, is 12 years old and her newest baby, Raya, who is still a kitten. They are like her kids as well!
Come. Stay. Heal.
Request an Appointment »