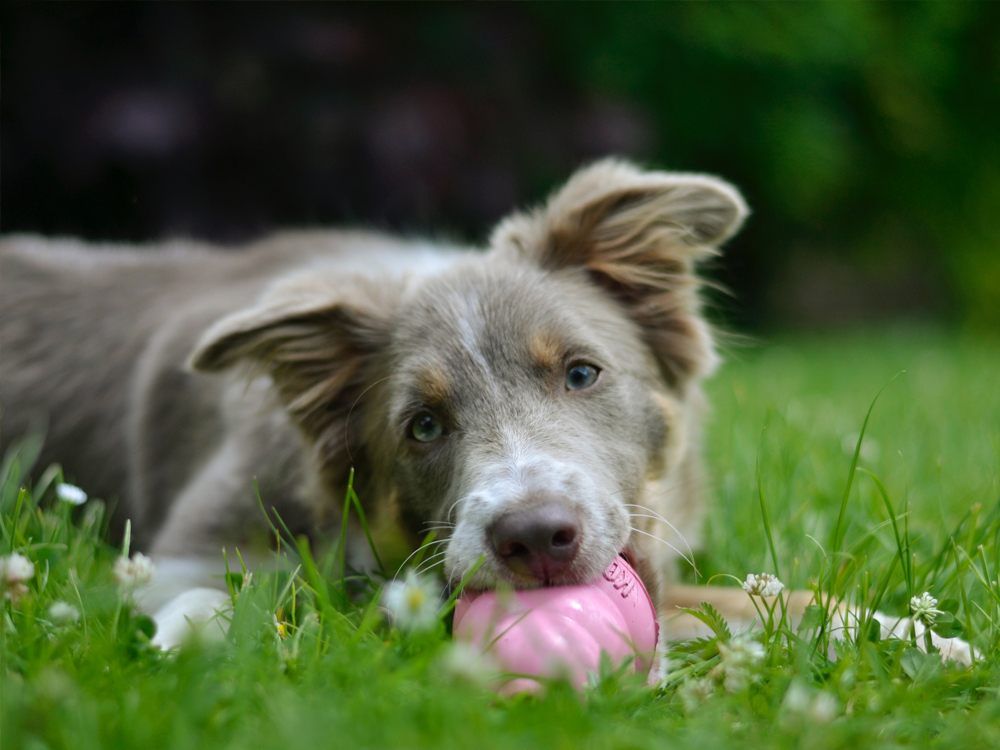 Chews for Choosy Pups
Have an antsy pup? How about one that's teething? Or one that seems to find shoes or socks irresistible? Keeping dog chew toys on hand is a great way to keep these types of doggos occupied. They can also help dogs' dental health. 
Vet-Approved Options 
There's no shortage of choices for dog bones and chews out there. But which ones are the healthiest? We've gathered a list of dog-tested and veterinarian-approved options for the best chew toys for dogs.  
Hard Rubber & Rope Toys
The Humane Society recommends a few types of chewing toys for dogs: "Hard rubber toys such as Nylabone® and Kong®-type products come in many shapes and sizes and are fun for chewing and carrying around. For dogs that like tug-of-war and chewing on interesting textures, rope and woven toys are usually available in a 'bone' shape with knotted ends."
Bully Sticks & Dental Chews
This Spruce Pets article gathers the safest chews for pups. Across the board, vets and owners profess how much they love bully sticks. Another helpful option are beef tracheas, because they have substances beneficial to a dog's health: "Sometimes called 'windies' or 'moo tubes,' beef tracheas are primarily made up of cartilage and contain glucosamine and chondroitin, which benefit the joints." Dental chews can be a good option, but just be aware of the ingredients for dogs with allergies or sensitivities. 
What About Rawhides? 
The American Kennel Club offers this advice for pet owners wondering about the safety of rawhide for their dog: "Rawhides are meant to be long-lasting chews that break down into tiny, soft pieces over time. However, strong chewers are typically able to break off large chunks that can pose a major choking hazard or cause an intestinal blockage, and both are life-threatening events. You can help prevent this from happening by offering an appropriately sized rawhide, but it's best to avoid them if your dog is a very heavy chewer. For dogs that are soft chewers, rawhides are generally considered to be safe treats because these dogs don't break them down into chunks."
Keep An Eye Out
No matter what chews you pick up for your pooch, be sure to keep an eye on them to make sure it doesn't become small enough to become a choking hazard. Your pup will be so thankful for a chew to keep her mouth and mind busy!