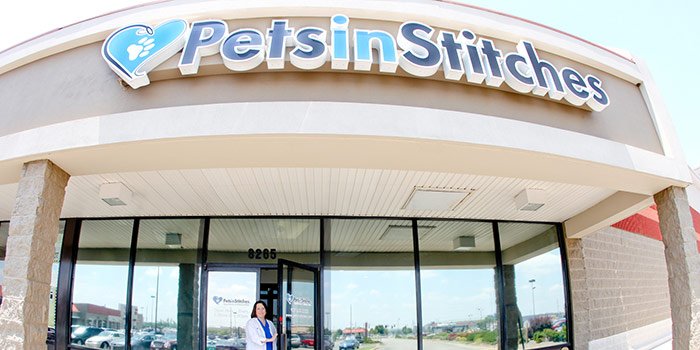 We welcome you to visit us in person during normal hours so we can show you around our state-of-the-art clinic. Also, we encourage your school, scouting, or other organizations to plan a field trip to Pets In Stitches. We would be very pleased to give a tour and discuss spaying and neutering with your group.
Until you can visit in person, we invite you to "take a tour" by photos below.
 Our New Spay & Neuter Clinic
Completed in 2011, Pets In Stitches is in the Southland 75 Shopping Center (just off I-75 near the Dayton Mall).
---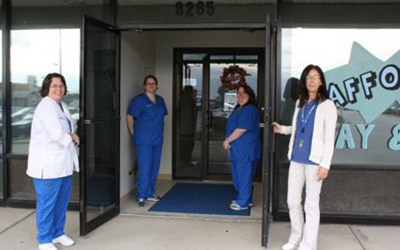 Come On In
We'd love to show you around. We are:
Dr. Rastetter, DVM (front left),
Donna, office assistant (front right)
Kate, veterinay assistant (back left)
Melinda, RVT (back right)
---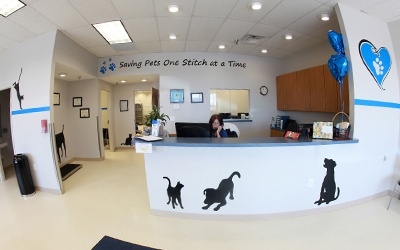 Reception Area
We will greet you and your pet in our reception area and review your admission paperwork. The adult owner of your pet must be present at admissions unless prior arrangements with Pets In Stitches have been made.
---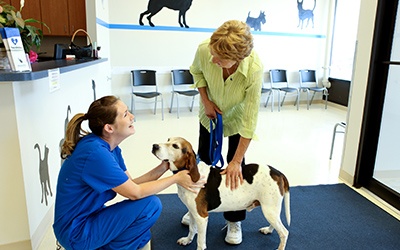 Meet and Greet
During the admission process, we will meet you and your pet in a friendly environment. Your pet will receive lots of love and affection. It only takes a few minutes to check in if you have your forms completed in advance. Then, you can be on your way.
---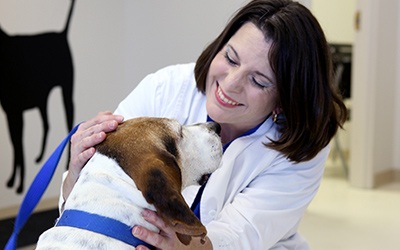 Dr. Rastetter Meets Your Pet
Your pet gets lots of attention and reassurance during the brief checkup to be sure your pet is ready for surgery.
If your pet shows signs of illness or if there are any concerns, surgery may be postponed and you will be contacted to pick up your pet. This would only be considered if it's in the best interest of your pet.
---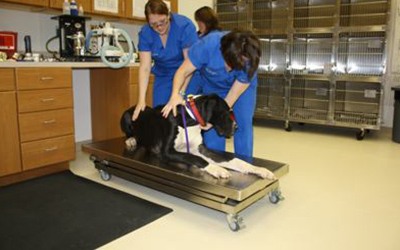 All Sizes Welcome
Rufus is one big dog (or a small horse…smiles). We have the equipment needed to handle all sizes of pets. Here Rufus sits on a special treatment table for large dogs.
---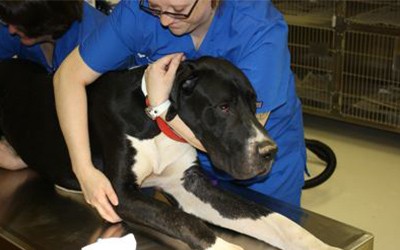 Extra Care
All pets receive the special care they may need. Here, Rufus is gently being held just before being sedated.
---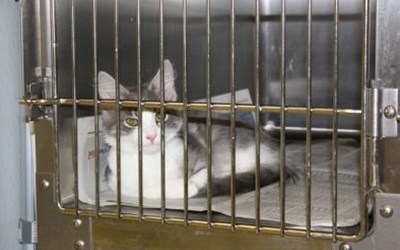 Clean and Safe
Holly is sitting quietly while she waits her turn for surgery. All pets have their own clean "suite for a day" to house them during their stay.
---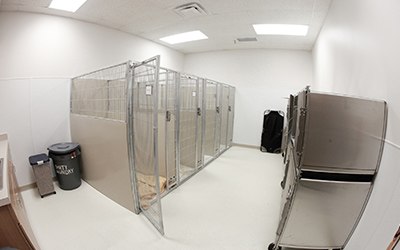 Minimizing Dog Bark Echos
Our dog ward has soundproofing in the walls and ceiling to help create a more comfortable "suite for a day" for your dog.
---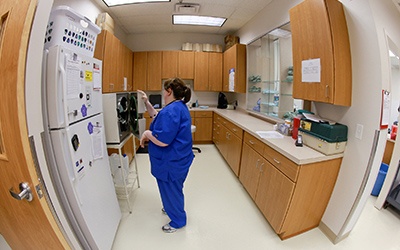 Multi-purpose Area
Our multi-purpose area for laboratory, pharmacy, and preparing surgery packs. You can see Melinda working with the autoclave, which sterilizes surgical packs for your pet's use. We've nicknamed it "Monster" since it's the largest tabletop autoclave available!
---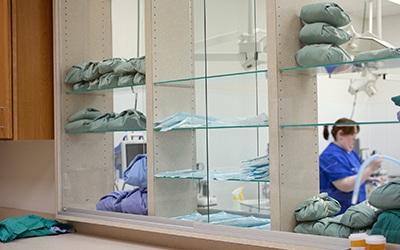 Surgery Packs
After being sterilized in the autoclave, surgery packs are stored and ready for use. Each pack has an assortment of surgical instruments so the veterinary surgeon will have everything they need for performing a safe and efficient surgery on your pet.
---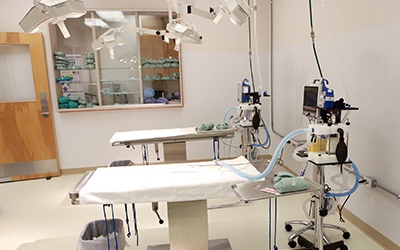 The Surgery Suite
The Surgery Suite is a special clean room dedicated to spaying and neutering your pet. Your pet will receive expert care during the surgery.
---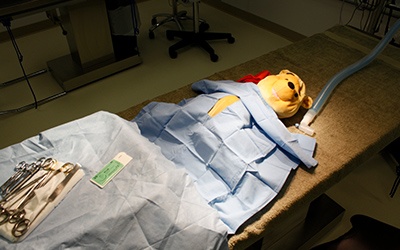 A Surgery Table
Each surgery table is fully equipped with a heated surface, individual lights, anesthetic system and vital monitors. A typical surgery will take only 5-20 minutes, during which your pet will be completely safe and monitored both by our staff and vitals machines. Here you see Winnie-the-Pooh demonstrating how a pet is ready for surgery.
---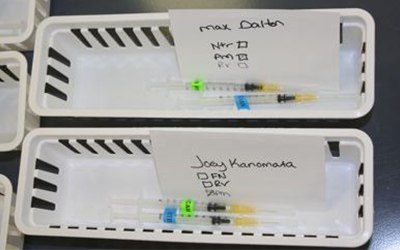 Individual Medical Trays
We make sure your pet gets exactly the right medicines and vaccines they need by providing a separate medical tray for each pet. These medicines may be administered before or after surgery as appropriate. We take the extra step of giving every male pet regional pain blocks in order to minimize discomfort.
---

Human-Grade Oxygen System
We provide the same type of breathing system for your pet as you would receive in hospital. To our knowledge, we are the only clinic in the Miami Valley that has this level of life support.
---

Vitals Monitor
Your pet will be connected to a hospital-grade monitor during the surgery that has its visual and audio reports continually monitored by the Pets in Stitches staff. Even though the surgery will likely last less than 20 minutes, we want to be sure your pet is safe and never in any distress during the surgery.
---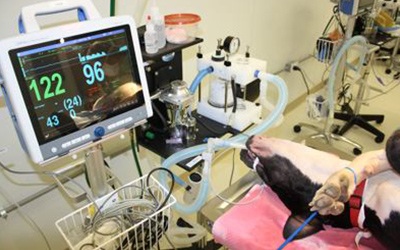 Rufus In Surgery
Here you see Rufus ready to undergo his surgery. He is completely relaxed and sedated, and hooked up to the vitals monitor and human-grade breathing system. He won't remember a thing.
---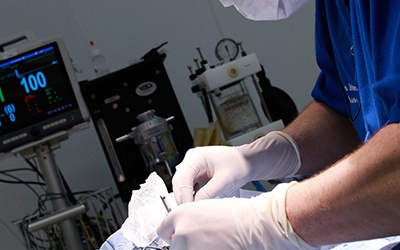 Time for Surgery
Our veterinary surgeons have many years of spay and neuter experience under their belts and utilize specialized techniques to increase safety and decrease your pet's time under anesthesia. We only hire the best staff to care for your pet.
---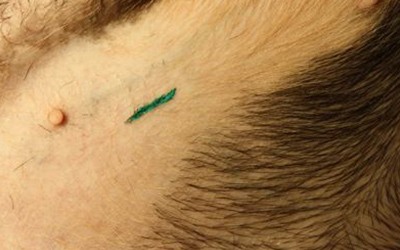 A Really Cool Tattoo
Yes, your pet will be tattooed. This green line is the recognized symbol that your pet has been spayed or neutered. It will be helpful to any vet who takes care of your pet. Now, if only we could do rose tattoos also… smiles.
---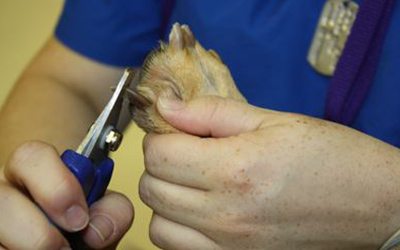 Pedicures Too
While your pet is sedated, we will provide any extra services you requested… such as the pedicure you see here.
---
Snoozing on the Beach
The Beach is our recovery area. Each pet lounges on a heated blanket as the anesthesia wears off. Sometimes, pets can be disoriented a bit after surgery, so we like to have patients nearby where we can monitor them.
---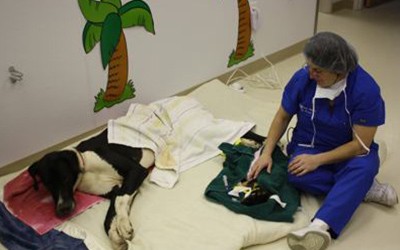 Make New Friends
Dr. Rastetter is stroking a small pet to stimulate their recovery on The Beach while another snoozes. The pets are typically drowsy and easily tolerate other pets nearby. When a pet is recovered, we will move them to their "suite for a day".
---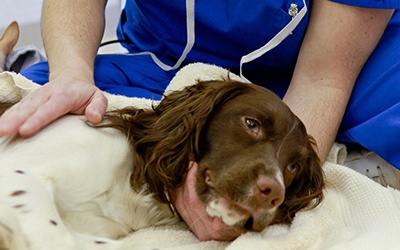 Ya Gotta Love It
Some special attention after surgery to help recovery.
---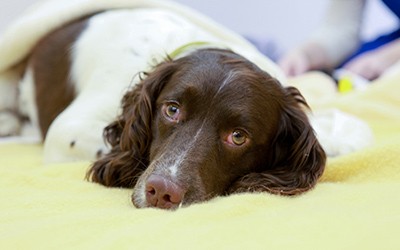 What a Day
Your pet will be ready and eager to see you. They will be fully recovered from the anesthesia and pain free (due to the pain blocks). Probably, hungry too. We will call in a couple days to see how they are doing at home.
---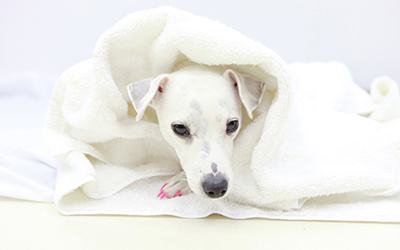 Me Too
Cozy and warm until you arrive to take them home.