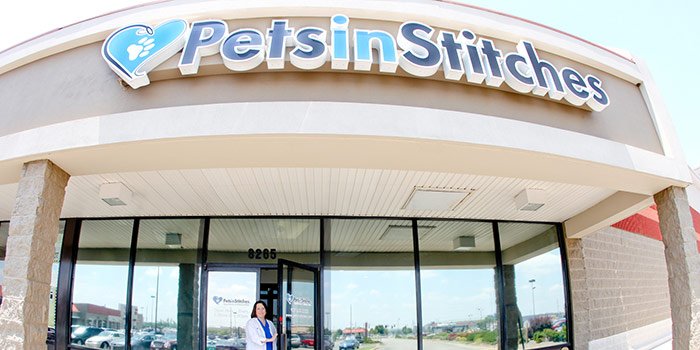 Taking your beloved pet in for surgery can be a scary proposition for both you and your pet. Knowing what to expect will often ease your concerns.
Here is what you and your pet can expect before, during and after surgery:
Surgery Day
"Of course, I'm up bright and early. I think we're going somewhere today. My human filled my water bowl but my food bowl is empty. Huh?"
Please arrive at Pets In Stitches between 7:30 to 8:30 a.m. for convenient check-in for your pets. We start early in the morning so your pet is not without food any longer than necessary.
We offer all our pre-surgery forms online so you only need to bring your vaccine certificates with you. Forms can be filled out online and submitted OR printed out, completed and brought with you. The adult owner listed on the pre-surgery form must be present at admissions unless prior arrangements have been made with Pets In Stitches.
Consider taking your dog for walk before you arrive since they will be in a kennel all day. And give your pet some extra loving this morning to help calm their nerves.
Free-roaming cats may be brought in before noon, without an appointment and without vaccination papers.
"Uh oh! They left me in the car. I hope my human doesn't take long."
When you arrive at the clinic, please leave your pet in the car until you have completed all paperwork. We make the check-in process very quick, especially if you have completed the forms beforehand.
At this time, we will collect payment. This allows you to concentrate on the post-surgery instructions at pick-up. For your convenience, we accept cash, credit and debit cards. Pets In Stitches does not accept personal checks.
"Go time! My human is back and we are headed inside. I wonder what this is all about?"
Dogs must be on a leash or in a carrier for their safety.
Cats must be in a carrier also for their safety. Cats may be together in one carrier for admissions. However, cats must have their own carrier when they go home. Cardboard carriers can be purchased from Pets In Stitches for a minimal cost.
A staff member will weigh your pet and check their vitals. The veterinarian will perform a brief physical exam to assess their fitness for surgery. At this time, your carrier will be returned to you and you may leave. Don't worry. Your pet is in good hands.
"I know my human wants the best for me and the people here are really nice. This won't be so bad."
We do want the best for your pets, just as you do. We make sure there are no signs of illness and no concerns before we proceed with the spaying or neutering surgery. If your pet shows signs of illness or if there are any concerns, surgery may be postponed and you will be contacted to pick up your pet. This would only be considered if it's in the best interest of your pet.
At the Clinic
"What's that smell? Oh, now I'm getting really sleepy…"
Many steps are taken to keep your pet pain-free, both during and after surgery. We use isoflurane anesthesia and hospital-grade monitors to evaluate tissue oxygenation, heart rate and respiratory rate. Isoflurane is one of the safest gas anesthesia used for pets. Male dogs and cats also receive regional nerve blocks at the surgical site for long-term pain control.
Our highly skilled and compassionate professional staff monitors your pet throughout the procedure. The spaying or neutering surgery is performed by an efficient and experienced surgeon. We have taken every precaution
to assure a rapid recovery for your pet.
Pets In Stitches also focuses on minimizing the risk of infection. Each pet has its own sterilized surgical pack for surgery and our facility and equipment are cleaned thoroughly on a regular basis. Our surgical suite looks and acts very similar to a human hospital.
"Mmmmmm… warm…"
As your pet regains consciousness, they'll find themselves waking up on "The Beach." Our popular padded area is warmed, keeping our patients comfortable after surgery. Often they will fade in and out of sleep in this cozy area – some staying for quite awhile! We monitor their pain levels and move them as needed.
After Surgery
"I hope my human comes soon. As nice as the people are here, I'm tired and ready to go home. Yawn! Seeing my human always makes me feel better."
Pets are released between 4:00 and 5:00 p.m. on the same day of surgery. Please plan to arrive on time with your carrier or leash so we can release your pet to you. They are just as anxious as you are to go home!
"My human is here! I can't wait to get home and curl up in my space. I wonder if I'll get a treat?"
When you pick up your pet, you will receive postoperative care instructions and any needed medications. We will inform you of any conditions or medical issues the veterinarian may have found during examination. These concerns may need to be shared with your regular full-service veterinary clinic.
If your pet was vaccinated for the first time, you may have to complete the vaccination series in 3-4 weeks with your regular veterinarian (other than the rabies vaccine). This will keep your pet in optimal health.
Your pet will be tired and tender for the next few days. Allow them to rest, making sure they are not disrupting their incision by licking or scratching. Confinement in a cage or a small room is best with short leash walks for elimination. Make sure you are adequately addressing their pain with the provided medication. Go-home sedation is available for dogs if your dog wants to run and play more than they should for the first seven days after surgery.
But if you have any concerns or the surgery area appears red and inflamed, please call us immediately at 937-630-3320.