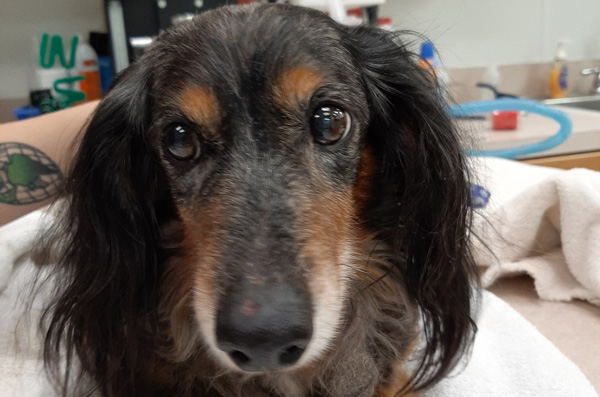 Warning: The following contains post-op pictures that are graphic. Though the purpose is for educational reference, viewer discretion is advised.
Up there in years but still a sprightly pup, Harley is a 12-year-old dachshund referred to Pets In Stitches in October 2020 for a dental cleaning and teeth extraction by Dr. Sue Rancurello. Due to the severity and pain from his dental infection, Dr. Sue had already started Harley on antibiotics.
At the start of his dental, Harley was missing seven teeth. Dr. Rastetter had to remove twenty-eight more teeth. Yeah, that's a lot of teeth—only seven teeth remained! When a dental infection is severe, the infection destroys the bones of the skull and gum tissue near the teeth. Fistulas, an opening between the mouth and the nasal passageways are often found after teeth are removed in advanced dental disease. Harley had some of the worst fistulas Dr. Rastetter has seen. These holes were covered by surgically creating flaps of gum tissue from nearby areas in the mouth. This is called a gingival flap.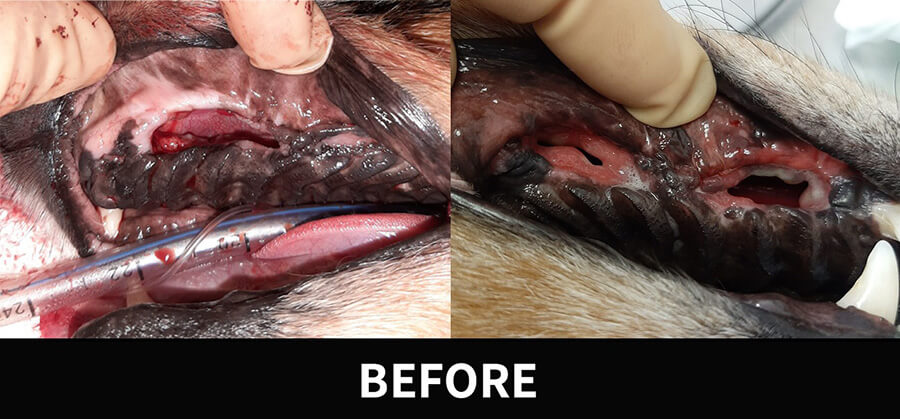 Due to the extremely large size of the fistulas and the active infection in the bones and soft tissue, when Harley was rechecked a week later, she found some gingival flaps had deteriorated and some fistulas were apparent again. When such large openings are present between the mouth and the nasal areas, the pet can develop problems with food and debri going from the mouth into the respiratory system. These fistulas needed to be closed. 
The decision was made to give Harley's mouth time to heal from the infection and inflammation. His pet dad told Dr. Rastetter that Harley was acting so much happier and eating better now that his mouth was no longer in pain! Such wonderful news!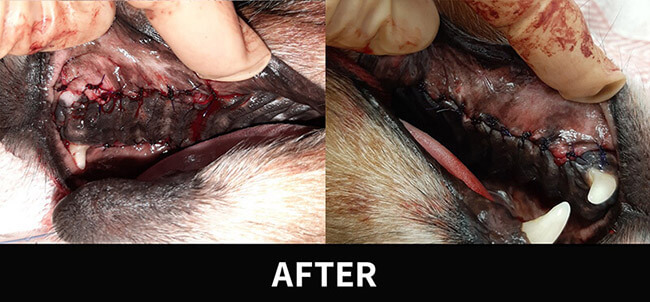 The pictures are from Harley's reconstructive surgery early in December of 2020. We knew fistulas were present near the front of his mouth on both sides (where the canine teeth used to be). However, he gave us a surprise to find a third fistula in the back of his mouth which Harley wouldn't let us see while he was awake. We were so glad we were repairing these fistulas! The second surgery was more aggressive, using flaps created from the inner lip and roof of the mouth. They healed beautifully!
It was very rewarding to go from the before pictures to the after pictures. And Harley's pet parents were thrilled with the outcome!