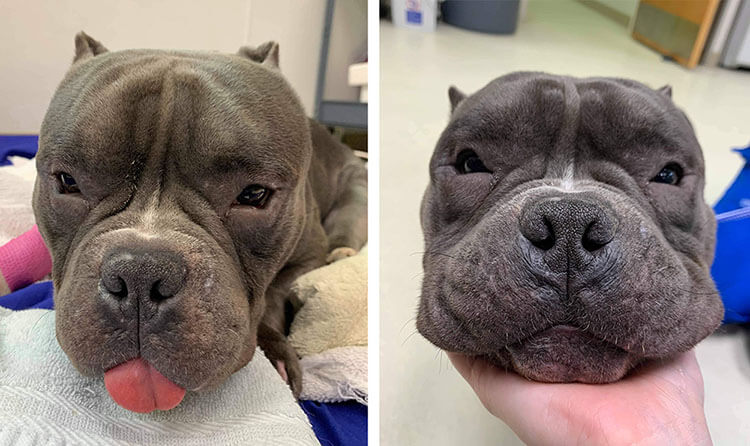 Hank is one of the sweetest dogs we have ever met! A 2-year-old American Bully, he soon became one of our most challenging patients. Hank is "brachycephalic",  which means that he has a relatively broad, short skull. Not all of these dogs have health problems, but many have what is called "brachycephalic airway syndrome."
Hank originally came to Pets In Stitches to be neutered. His pet mom was referred by a previous client and past coworker of Dr. Rastetter's. His mom knew that Hank, because of his structural abnormalities, had a higher risk for anesthetic complications during his neuter than a dog that was not brachycephalic. The Pets In Stitches team routinely works with brachycephalic dogs and cats, and uses specific drugs and steps to reduce those particular risks and challenges.
The most significant challenge was placing his breathing tube in. Normally, our licensed and experienced veterinary technicians manage anesthesia and breathing tubes. Dr. Rastetter had to become involved, along with utilizing available tools on hand that are rarely used for these types of procedures. Thankfully, we successfully placed Hank's breathing tube in for anesthesia. The recovery time after surgery was the team's next concern for Hank. Brachycephalic dogs often have more tissues in their airway than normal dogs. This extra tissue can obstruct breathing once the breathing tube is removed. 
Typically after surgery, patients are allowed to breathe oxygen for a few minutes and then are moved to our heated and padded area for recovery and breathing tube removal. In Hank's case, when we attempted to remove supplemental oxygen, the oxygen in his blood would drop below normal. Thus, he stayed on oxygen supplementation on the surgery table while intubated, and was there much longer than the usual few minutes after surgery.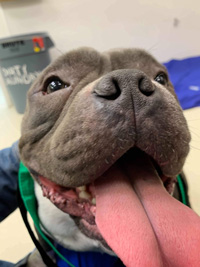 Once we noticed that Hank was trying to chew his breathing tube—the tube was removed and Hank was still supplied oxygen and his blood oxygen levels were watched closely. The process of surgical recovery to have the breathing tube removed while making sure the dog is stable is roughly 5 to 15 minutes. In Hank's case, his surgical recovery took over one and a half hours. Our team was not willing to leave his side until he was able to maintain his oxygen levels on his own and breathe well. 
He went home the same happy boy he came in as, and his pet mom told us the next morning that Hank had no respiratory issues overnight. It's such a reward to see our team recognize patients with special needs and take care of them!