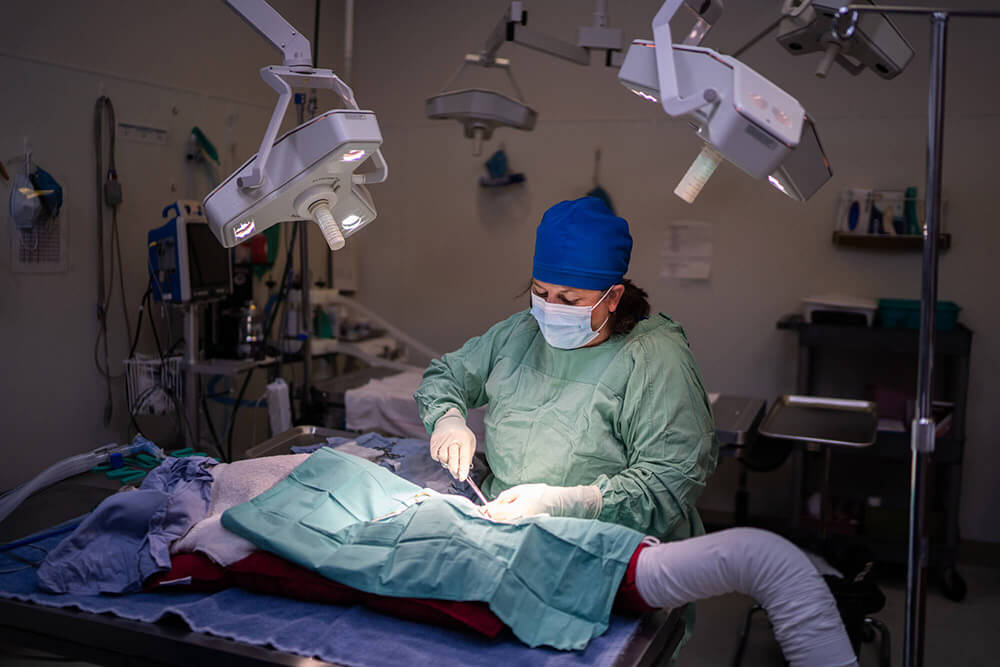 "People will forget what you said, people will forget what you did, but people will never forget how you made them feel." We think this quote from Maya Angelou extends beyond people. It holds true for pets, as well. Your pet will likely make repeat visits back to the veterinarian's office so we want the association to be a pleasant one.
If your dog gets excited when she sees you pick up the leash and can ascertain you're going for a walk, you bet she can remember what the front of our building looks like. Our goal is for your pet to see our doors and remember it as a safe, welcoming place.
So many studies are coming out to prove animals have intelligence in ways we've never fathomed or understood, and this area is no exception. We have to give those little furry noggins the credit they deserve—pets have memories, feelings, and opinions—and we need to accommodate them in the best ways we can.
At Pets in Stitches, we have extra measures in place to create positive experiences. We aim to go above and beyond in making your pet feel at home. Some of the ways we do this include specialty care, low-stress handling, and all of the equipment we have for the safety and comfort of your pet.
Another asset is our ongoing dedication to continued learning. Our owner and head veterinarian, Dr. Rastetter, recently attended a four day intensive training for more advanced surgical procedures. The training took place at the North American Veterinary Community Institute to participate in the Practical Techniques in Soft Tissue Surgery Course. Our entire team is dedicated to staying current in continued education.
Let's go over some of the steps and equipment that sets Pets in Stitches apart and makes us one of the best vets in Dayton, Ohio. We'll start with our process:
Friendly greeting during admission process 

Quick checkup to ensure pet is ready for surgery

Get acquainted with clean and cozy "suite for the day"
Much of our equipment isn't seen outside of ERs or specialty hospitals. You can rest assured your pet receives the highest standard of care while they're with us.
Equipment:
Bed Jet Blanket to keep pets toasty and comfy
Fluid Pumps to keep just right level of fluids
Syringe Pumps for steady pain meds
Ready Warm heats fluids to body temperature
HotLine Fluid Warmer keeps patients warm during procedure
Human-Grade Oxygen System for same level of breathing support found in human hospitals
Anesthetic Machine for safe and measured inhalations
Vitals Monitor provides continuous vigilance to indicate any signs of distress
Mobile Vitals Monitor can easily move anywhere for constant tracking
Cautery Machine can stop blood vessel bleeding quickly
The Beach is the recovery area to stay calm and cozy while coming out of anesthesia 
Communication App keeps you up to date to put your mind at ease
Let's create positive memories for your pet so they are happy to see our faces again! With some kindness, patience, and a gentle approach—we can make the veterinarian's office a comforting place for your pet.
For more detailed information, visit our Take a Tour page. And, as always, for any questions just ask!