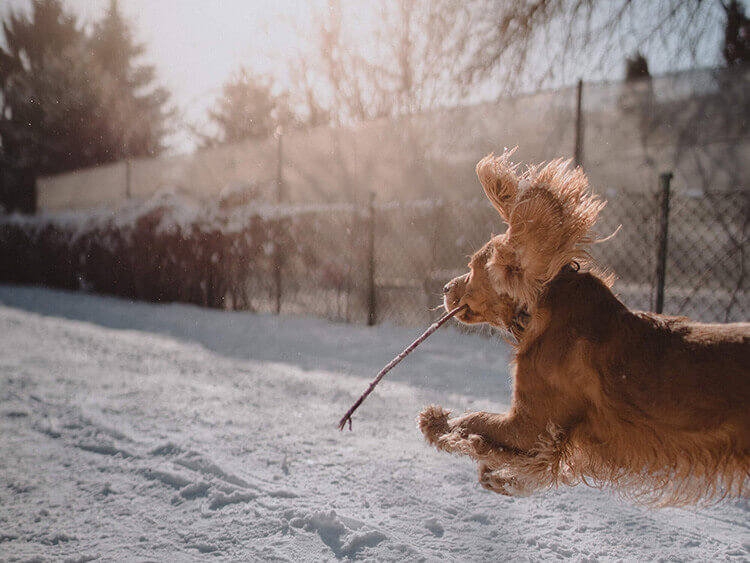 Inside & Out
Here we are, deep in the cold months of the year and you might be trying to muster together some more fun activities to do with your pet. With options for both the inside and the outside, we've gathered suggestions on entertaining ideas to try with your pets in the winter.
Winter Walks 
Walks in the snow can be a great way to both stimulate and exercise your pup in the winter. Just be sure to clean their paws off when you come back in. Dipping their paws in warm water and drying them off is the best way. Salt can dry out the pads of their paws and it can cause digestive trouble. 
Another option is to put dog booties on before heading out. Lastly, consider using paw balm to keep their paws from cracking. Just like how we might need lotion in the winter for our hands, our pups might need a little extra moisture too. For more information, check out this AKC article. 
Visit a Store 
Many area pet stores allow dogs, so that can be a good plan to get an outing in for your pup. If you need to pick up more food, might as well bring your dog along, right?! Many stores will even offer your dog a treat. For a local, independent experience, try visiting EmBARK Dayton Dog Supply at 33 St. Clair in Downtown Dayton. Take a picture in front of their photo wall and become a member of the Dayton Dog Pack.
Perplex Your Pet 
Puzzle toys are an excellent tool to keep your dog or cat entertained. You can use them as a way to get them to slow down in their feeding, something to keep them engaged while you're away, or just a fun treat. In this Rover article for dogs, there are several toys listed and some fun choices that look like waffles, sushi, or barnacles. Include your cat in the joy, too, with these options like a treat maze or toys that mimic the chase of catching a mouse.
Train Your Dog
In this season of slowing down, it can be the perfect time to begin dog training. The work you put in always has big advantages, strengthening your bond and improving quality of life for both of you. We're big fans of Train Your Pup out of Moraine. An excellent choice for flexibility, they offer both at-home training and group training classes. You can call 937-938-6641 to schedule a consultation or fill out the form on their website. 
Keep The Fun Going
So, whether you're thinking up options to be out and about or ways to keep your pet entertained at home, try out a couple of these ideas and keep your pet amused!